Our team is headed back to SXSW in March with another successful submission for the EDU stage. Our panel session "Adapting SoftSkills Training for Today's Workforce" will be facilitated by Skills After Service Director, CJ Niehoff. Guests on stage with CJ will include Aaron Demerson, Jay Burcham and Starr Corbin. See below for additional speaker information.
Session Title: Adapting Soft Skills Training for Today's Workforce
Overview: Today more than ever, common sense soft skills are essential to any productive workplace or team. They are hard to define but we all know it when they are lacking. Soft skills can make or break our collective ability to work together effectively. We'll explore the post-covid need for innovations in soft skills training for workers and employers, for veterans transitioning to civilian life, for working adults navigating career changes and for young people out of school, now new to the workforce.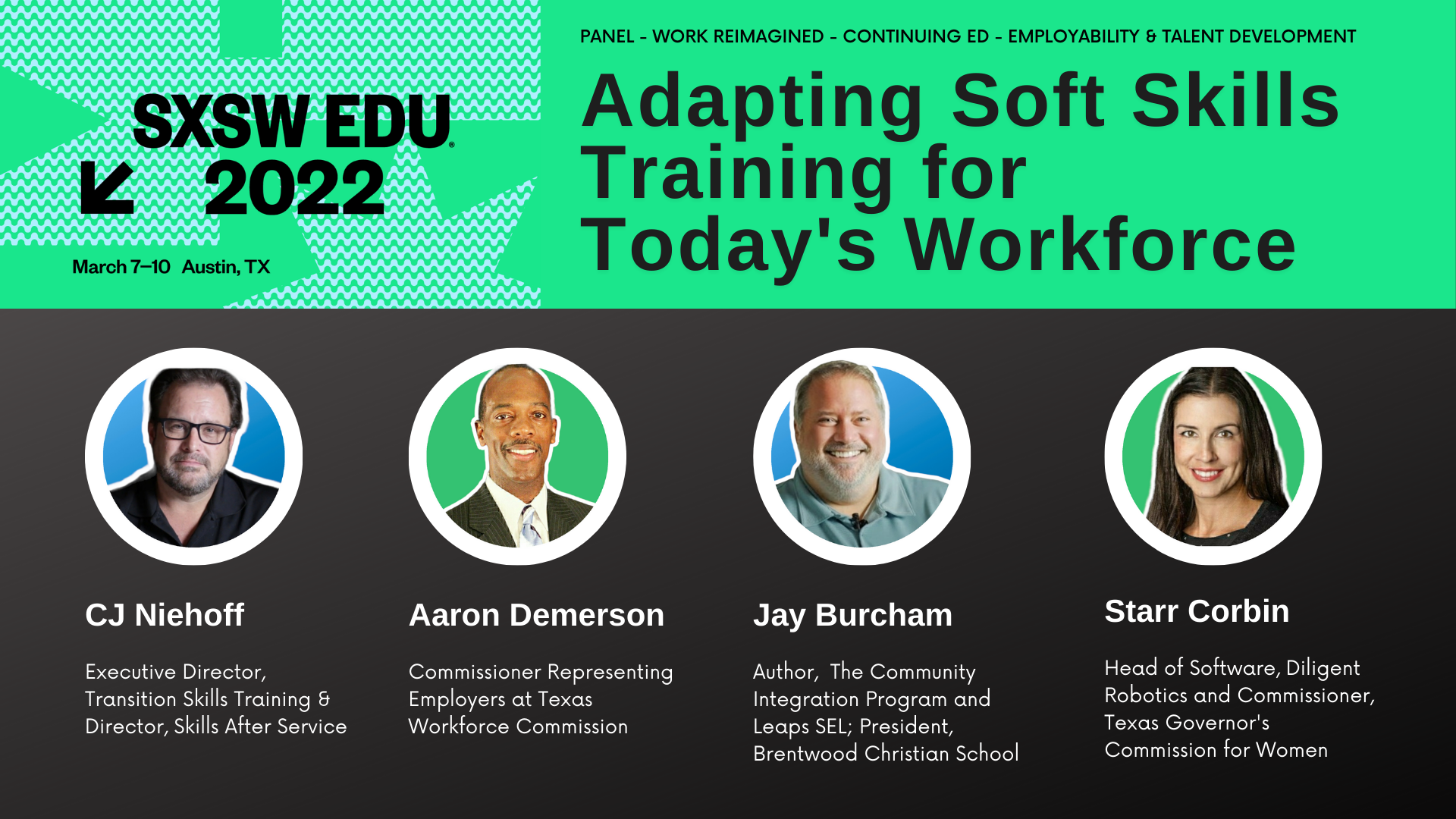 Takeaways will include:
We'll establish soft skills as tangible, teachable tools that can be measured, reinforced & leveraged for better paying jobs and personal development.
We'll discuss research and methodology for teaching working adults how to recognize & improve soft skill deficits in their own behavior & with others.
We'll look at this post-pandemic opportunity to reset expectations for common sense, dependability, initiative, and respect for self & others at work
About Our Submission
We are very excited to feature some of the top voices in leadership, innovation and tech to take on this challenging topic. Below is our video submission for the conference.
You can find us in the SXSWEDU 2022 Schedule here:  https://schedule.sxswedu.com/2020/events/PP103583


Add to my Notebook