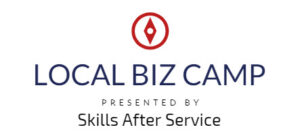 Skills After Service is excited to announce a new partnership with Local Biz Camps to provide small business education and training for veterans. Local Biz Camps have been providing a unique and powerful educational experience for small business owners and nonprofit professionals since 2016.
Local Biz Camp founder, Julie Niehoff says, "Our events are hosted by local business leaders offering real-world, practical advice for growing revenue, lowering costs and improving the day-to-day experience of managing it all. Participants come away empowered, inspired and more connected to their own local business community." She is the former Director of Education for small business powerhouse Constant Contact and played a key role in growing the company's global education initiative starting with a handful of free seminars in a few key cities in 2006 helping to nurture that program into an international effort hosting more than 10,000 seminars annually.
The goal of the partnership between Skills After Service and Local Biz Camp is two-fold. First, provide entrepreneurial veterans with an outlet for education and engagement with their own local business communities. Second, to generate awareness and understanding for civilian business owners about working next to and with veteran business owners. CJ Niehoff, Skills After Service founder and Managing Director, says, "We realized early on that this whole effort to educate and empower veterans was not enough. We also need to educate civilians," He goes on, "there is misinformation, there is confusion and there is just a lack of knowledge about the number of veterans who are transitioning out of a military career and entering the civilian business sector. These events that Julie has been hosting for years now are just a perfect match to have those conversations without having to bore people with lectures and presentations. We just want them in the room together."
Local Biz Camps promise participants no long or boring slide presentations, no over-your-head tech speak and absolutely no pushy sales agenda. Most events are half-day so that busy business owners already wearing too many hats can make the time to get away for an afternoon and gain some knowledge about marketing strategy, new tools to help grow a business, leadership, mindset, operational methods. These are peer-to-peer conversations with local business leaders and counselors on hand to provide a road map. One participant at a recent Austin event said, "I came to this event thinking I was going to leave early but they pulled me in and I actually wanted to be there." Another says, "I went to another very expensive workshop last week in Dallas and got more out of the first half hour at Local Biz Camp than I did in two full days and thousands of dollars spent at the other event."
Local Biz Camp presented by Skills After Service will include standard topics like marketing or management but now they will also include some veteran-focused topics that will be useful to all participants, not just the vets.  There are also local organizations on hand like Small Business Development Centers, SCORE Mentors and the SBA on hand to provide free assistance. "This partnership is more than two organizations coming together. This is community-building, practical advice and strength in numbers", says Camp founder Julie Niehoff.  "We are so excited to be part of the Skills After Service effort to help military families find their own path into a meaningful and fulfilling career." 2019 camp dates and cities will be announced in June 2019. Cost to attend is typically between $40 and $80 and Skills After Service is working to ensure that veterans and their spouses will be able to attend at no cost.
Related Links:
Local Biz Camp website
Small Business Development Centers
SCORE Mentors
Small Business Administration Info for Veteran-owned Businesses


Add to my Notebook